The most awaited time of the year is just around the corner, most of us have already started planning about the lovely gifts for our loved ones. The festival of lights just encourages us to organize our surroundings well, neat, and tidy. Not just to make what guests think about us but for your mind's satisfaction. Traditional gifts are one of the top picks considered among people while gifting, as these add beauty to our lives.
Today while searching on the web, we found an amazing art/home decor brand that offers such items (Paintings, Candle Holders, Planters, and many more) at a very reasonable price tag. For us it is an irresistible moment when it comes to Diwali shopping, What do you say? Art Slice, started by Palak Gupta tends to promote aesthetic art collection which completely handmade. They make a complete range of products like utility items, table decor, mural paintings, and many more.
As we had spoken above, Diwali is the festival of lights where you have to lit up your homes, offices, or workplaces for worship. Art Slice's Candleholders/Candle Stands adds crisp to your ordinary home. This will actually blossom your home with a modern look and quality is just super cool you need not worry about it. It is available in multiple trendy color options to match with your home/office looks. So, this candle comes in a combo option where you will get two pairs of candle holders and a planter. It would have been better if they could send us matching diyaas or candles with this. Anyways, you can place this at your worshiping place and can light up your home with beauty. This pair for two Candle Holders paired with the same styled planter starts at just Rs. 1550/-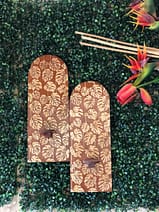 You can also include planters with the same design and customization options in your order if you wish. Surprisingly, they offer Wall Candleholders too which I believe is inspired by the older generation setups we have seen in movies or serials before. So, you can put it on your walls and save some extra space in your home. Not only this, this will make your entrance shine and is a sort of welcome for your loved ones. I am happy to say, that while you feel them with your hand you will realize these are purely handmade products unlike other products available in the market.
Also Read – TEQTA USB-C Hub: One-Stop Work From Home Solution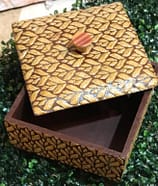 Art Slice offers designer gift boxes too, where you can easily place your special unique gifts which will surprise your near and dear ones. These also are fully customizable thanks to the handmade process. This purely tends to promote aesthetic Indian handmade handicraft culture and is a traditional way to share happiness. This will actually make your gift a complete package which was not at all possible for you. You can ask them to customize this according to your gift size and you are ready to spread happiness!
This is not enough? Art Slice offers way too many products like souvenirs/utility/decor items starting from Rs.800  and a range of paintings which starts at Rs.5000, you can pick and choose according to your taste. I personally feel this is one of the most ideal gifts when it comes to corporate gifting. Click Here to check out their complete range of products and other pricing related questions. You can also message them if you require more quantities for this.