Ever since the pandemic came into existence, people's shopping trends are changing day by day. Most of us are now switching to e-commerce platforms for most of our needs which I believe is a good initiative to manage all the protocols. Where people can safely order things from their smartphones with a few clicks and get their there products delivered in a hassle-free manner.
Today I am going to share with you one such luxurious shopping platform and mostly all the products listed on their website are handcrafted in India. Basically, this is just an encouragement to 'Made in India' products and support for our small businesses. Also, all the products are designed in such a way that makes you feel your own culture and tradition.
ExclusiveLane has a variety of products ranging from dining to decorative items, Gardening products, gift sets, and more. This online platform was started in 2012 as a craft brand with a vision to promote Indian handicrafts globally & help small artisans based in different parts of India.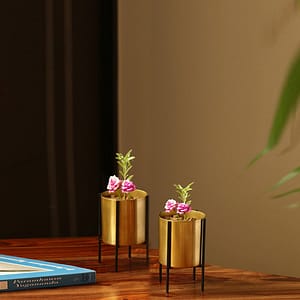 In the times of covid when everyone is sitting idle at home and facing one or the other issues. It is always recommended by doctors to stay in a positive atmosphere. So I followed the same and ordered a variety of planters for my home.I believe most of you would have done the same, plants attract positivity at home, apart from that you make your home looks good. You can also directly place an order online for your near and dear ones and make their day special.
Fortunately, the delivery was on time and the experience was seamless. I will also advise you to make a pre-payment of your order to avoid any kind of hassles. I am very happy with the quality and pricing of the planters. You can arrange them in your garden, or at your home's entrance or on your office desk too.
About ExclusiveLane.com
ExclusiveLane has adored stepping into the world of exhibiting handicraft products to the domestic as well as international market. The company is headed up with the solemn goal to provide economic upliftment of the artisans that are involved in preserving the heritage of the handicrafts industry in India. Their aim is to maximize the use of the handicraft in urban India as well as in the overseas countries and let the ancient traditional artisan know their international importance through their widespread talent in the easiest way.
You can check out the ExclusiveLane Coupons page here for all the latest offers.