Today I am going to share with you one such extraordinary shopping platform TinyMinyMo.com and mostly all the products listed on their website are Home Decor/ Gifting / Personal Care / Tech and more. Fortunately, the delivery was on time and the experience was seamless. I will also advise you to make a pre-payment of your order to avoid any kind of hassles and save extra with this. I am very happy with the quality and pricing of the products, the pricing is justifiable and is worth the money you pay.
If you belong to the new work-from-home generation, you will fully appreciate the charm brought by splendid unique decor items. With ample options available, it is easy to make your living space more lively using cute gifts online that enhance the ambience. Tinyminymo brings to you an affordable collection of cute decorative items online that will make for a more positive and cheerful home as well as working space.
Star LED Curtain Light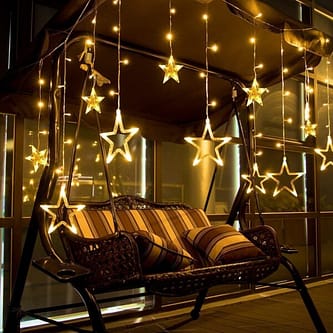 This Star LED Curtain Light Can Be Used All Year Round, In Your Room Or Balcony Or Even As Decor For Festivities. This Emits A Warm White Light That Brightens Up Your Space And Brings In The Cozy Vibes. This Hanging Light Is Electric Plug Operated And Is So Pretty To Look At!!
PRODUCT SPECIFICATION
Material: PVC And Copper Wire
Size: 4 Meters
No. of Stars: 6 Big and 6 Small
Light Color: Warm White
Wire Color: Transparent
Switching Modes: 8
Plug-in Light
The Star LED Curtain Light destined to impress, and priced at only Rs. 799.00, for a limited time.
Plush Headphones
PRODUCT SPECIFICATION
Size: 19 X 20.5 cm (approx)
Cable Length: 120 cm
Connector: 3.5 mm
Frequency Response: 20 hz – 20 khz
Noise Isolation: 24 dB
Color: Light Ombre, Dark Ombre
The
Plush Headphones
was built with people like you in mind. Something to keep you happy. Every. Single. Day.
About TINYMINYMO
They aim to provide the most Affordable, Personalized presents for all Occasions and make it all the more Special for your loved ones. By passionately curating the best presents  from around the globe, tinyminymo.com have embarked on a journey to make gifting a hassle-free experience. They aim to make uncommon and unique gifts accessible to everyone sitting at home. With a few clicks over the internet, your experience will be right up at your door. But, they also realize how much every gift means to you. And that is why we make sure, that it is a memorable experience!!
Tinyminymo was launched in 2018, by two friends Ashish and Mallika, while they were in College and still figuring out what to do in life. In the Quest to find the perfect Gift for their Near and Dear one's, both of them decided to start a brand to fill in this gap in the gifting Industry. Apart from that there wasn't an online platform that would provide day to day products but with a unique and a quirky appeal to it. They just wanted to make these Cute and quirky products like Coin pouches, water cover notebooks, Marquee lights, Emoji Power Banks, Frosted Sippers etc. accessible to all at an affordable price.
shipping & logistics requirements –  they tied up with shipping aggregators and use only reputed delivery partners such as FedEx, BlueDart, Xpressbees and Delhivery. Also, TINYMINYMO is offering shipping across India with cash-on-delivery option for your convenience. Apart from this, you get multiple modes for payment which definitely safe and foolproof. You can also ask your product related questions directly on mail from one of the representatives so they can reassure you all things before you make a purchase.