Are you looking for an exciting Work Desk to boost your Work From Home (WFH) performance? Especially in the times of COVID-19 pandemic across the world, when everyone is facing different yet unusual problems that we weren't aware of before. The table is ideal for all school going kids and I personally feel there is not any specific age group to mention here. But it is a kind of product that is suitable for all people irrespective of age group or the industry they belong to. Parents who are thinking to spend thousands on big furniture for their child can consider buying this table as this is not affordable yet it saves a lot of space at home.
I have seen many people around in the times of corona who are not investing in any kind of WFH Essentials. But you are challenging your health and work productivity. What if you pay an extra few bucks to enhance your work station? According to my experience, all WFH accessories are beneficial in every way and you should also try them out!
The product comes from a brand named Procuremate and they promise you as a customer a seamless buying experience. This is so far the most ideal pick for WFH essentials you should consider buying at least in the time being. This is actually a foldable study table wait not just that you can also do some exciting things with this table that I will try to list out here in this article. So, is not just an investment for now but for your future too.
The first thing that strikes our minds, when it comes to buying furniture online – is product delivery and customer support. I found the packaging well intact and there is nothing to worry about, it actually comes in a huge cardboard box which was quite thick to handle the product safely. This product is fully furnished and not requires any kind of installation. This is a case where you don't have to be dependent on any person who will be coming to your house to fix this. Moreover, it is a time-saving alternative with respect to other desks available in the market.
The product is heavy no doubt it will require two people at least when you are moving it here and there. But if you don't have to push it along every day so it is just okay. This table can also be used for small get to gathers or picnics in the garden :).
Also, Read –Decorate your Work Desk with this super cool item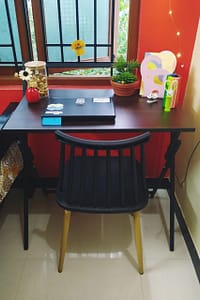 The table has two different placing levels for your convince. Definitely, it will work for me as a daily driver where you can take your online conference calls/ classes by keeping up the laptop/monitor/tablet to the upper portion/level and you can easily note down things in your copy without facing any difficulty. Which is going to be enough for most people.
It is made up of engineered wood and a well-treated metal base with powder coating ensures strength and durability. The outer look of the table looks solid and premium. Though when I will tell you the pricing you will not believe me at all it is damn good for the price it is offered at. At the bottom, you get a metal frame that allows you to fold the table and save some extra space. One of the unique things is that you can keep the table to different places every day if your work requires so or in case you want to have some fresh air outdoors. Unlike other tables, the material used here is not sticky and you can easily move your hands-on table which will offer good support while you are using a laptop or writing something. Basically, it will improve work productivity from home and a place where you can and concentrate on your work which could have been somewhat different before.
This Procuremate table starts at just ₹5,900 (Offer Price – 3,569 with freebies) is also available in other color options like – Walnut, Beech, Walnut with black stand, Silver grey, and Silver grey with white stand for customizations. You can also find out more product-related information Click Here. This authoritative table comes with 6 months warranty you don't need to worry about it.
"This Diwali it's your turn to create your own Work Desk the way you need and increase your everyday utility." – @GizmoTrends