As you all are aware of the rising pollutions level across the northern region of our country. It's our duty to give back to nature as well, which has given us all essentials it can be food, shelter, and more. We thought to introduce to you the perfect home decor item and surprisingly this product can provide you fresh air indoors too. Fortunately, this product is fully natural and is super-duper affordable when it comes to pricing.
So, the product is actually a combo-set of Eco-friendly jute covers that are made up of 100% Eco-friendly material, these are Biodegradable and Recyclable. Secondly, these are Reusable so it will not harm nature in any kind but it will provide happy vibes to your home which I believe is necessary for all of us. In this combo, you will be getting three different sizes. If I personally speak about the design, it looks very unique and minimal, which I wonder is suitable for all kinds of places it can be homes, offices or for shops. Not just that, you get a variety of patterns to choose from which are depicted below in the pictures and can be opted for according to your taste.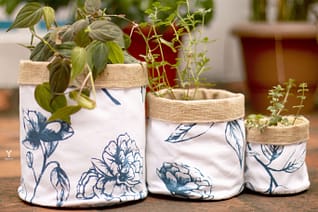 Check out other colors offered by Yevvi – Click Here.
These are also good for keeping indoor planters and will free up your space too without causing much mess! There is nothing to worry about the life of the plants, these are organic and fully natural and won't affect the growth of the plants. If you ask my suggestion, get two or three oxygen plants and keep them inside your home, this will work as a natural air purifier in the need of the hour.
Some Oxygen Plants you can consider buying – Aloe Vera, Snake Plant, Rubber Plant, Spider Plant, and more.
Salient Features
Lightweight & easy to handle. Micro pores for plant breathing.
bio-degradable pots are 100% eco-friendly
Incredible Shelf life
Can act as Storage Baskets
Eye-Catching Appearance
Vocal for local
Conclusion
In final words, it is a worth buying product that will provide a modern aesthetically appealing design and style to suit your home and office. This will make you organize your clutter by putting in this beautiful Jute storage basket. For orders, you can Directly message the Yevvi team on Instagram or WhatsApp them on 99406 69279, even if you have any other doubts you can connect with them for easy resolution.
Coming this New Year 2021 let us promise to give back to nature which has given us a beautiful life –
 Plant one basket today and take one step forward to greener tomorrow. – @GizmoTrends
The second product which we have to showcase is the range of Classic Coasters that are available in Set of 4, Set of 6, Set of 8 combo options according to your needs. These coasters can be put up on your dining table to welcome your guests next time when they visit you and bring smiles to your loved ones. When it comes to design, it looks stylish and provides a luxurious experience. Ideal for your glass tables too and it will protect your table from scratches. Never leave any mark or stain on your desk, make it look like new!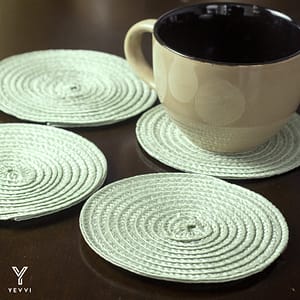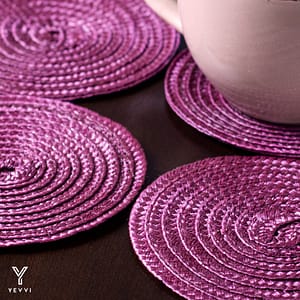 Salient Features-
Vibrant colors available

Long-lasting and effective

Convenient and easy to use
About Yevvi
Yevvi, an Indian online brand offering a range of creative home decor products. Started by two design enthusiasts, Sindhuja Venugopal and Maheshwari Selladurai from India. The name 'Yevvi' means uplifting in the Tamil language. They research, develop and manufacture creative, sustainable home development products for a better living.
"India has always been fondly known as the country of symbolic colors. Joyous, bright hues are a large part of our consciousness. Similarly, Indian designs and motifs has it's own heritage value and is closely associated with natural, cultural and religious factors prevailing here. Most of our design collections are inspired by the nature and varied cultures of India. We look forward to bring more colorful and functional designers products in the future" says Sindhuja (Co-founder at Yevvi)
Find Yevvi on Instagram – Click Here.