Work from Home topics is becoming just another trending buzzword. We have got you covered with two such great Desk Organiser and a laptop stand you can use in your day to day work to keep your things well organized. Because we feel clean and well-organized desks are a better place to think and study.
Sponge Box by Aurik Studio
The first product is a sponge box – this looks like a pen stand but here you have a choice of products to keep in it which can be a pen, pen drives, mobile phone, earbuds, visiting cards, and much more. The size of this product is just good to organize your table. This Sponge box is very minimal in design the other way around you can add any text engraving to the product just free of cost. This engraving adds your own taste to the product and you can customize as per your wish. All the items fit perfectly inside this so you need to not worry about losing your expensive things/gadgets.
Also, Read – Checkout this super-efficient table
The Vertical Positioning feature increases the ease of access, lets you place things vertically such that it is very easy to pick them up and place it back. The box measures 12x10x5 cm and weighs only 100g. When it comes to the build quality it consists of pinewood and covered with silk. I used this for taking conference calls and it works like charm. I personally feel this is a must-have product to increase your work-life balance better and your things will appear to be much more organized.
ELIS Laptop Stand by Aurik Studio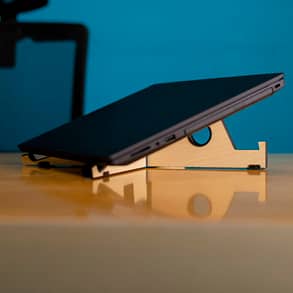 This laptop stand is not just like other stands available in the market but a unique product on its own. It comes in two different sizes XL and L which you can choose according to your laptop size. The product provides an ergonomic typing experience with a raised angle. It becomes far more convenient for the user to access ports which is not quite possible otherwise. The optimized geometry provides ventilation that prevents heating which makes it a necessity for gamers or video editors. In all this is just a great product for your work utility you can use. The Laptop stand offers a compact design and is very portable. It could have been better if anyone who sits on a mattress then it is not the product you should consider buying. Otherwise, if you manage all your work at a desk then it is a great product to consider. Just like the sponge box this also comes with a free engraving option to customize the product the fullest.
Both the above-mentioned products are available for purchase through the Aurik Studio Website. Also, you can share the text which shall be uniquely engraved on the products. The company is offering FREE of cost CoVID Safe Key along with every order for a limited time.