While the pandemic shows no signs of us going back to precedented times many people are adapting to the WFH lifestyle which will be a long-term reality for many companies across the globe.
Many of us now moving back to our home, securing that one corner to use as a workstation might be a struggle if you don't have a separate office space. Working from the kitchen table or stress-prone locations like the bed-side is not at all ideal. Working in discomfort is a sure shot productivity killer and Smartstorey's affordable, compact, and accessible WFH table is what you need to invest in. This foldable two-tier modern work station setup offers one solution to many challenges concerning space, storage, or accessibility.
Also Read – Digital Marketing Factors That Are Dominating The Market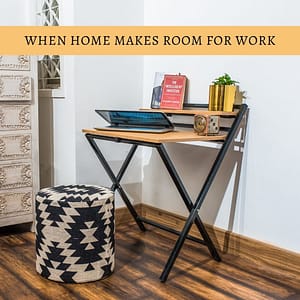 The pandemic has shattered previous ideals of working from a centralized office location and reality has now dawned that its important you have a companion perhaps a succulent by your workstation and this two-tier setup has all the space you need for just that. It's even perfect to store snacks at the top for that midday hunger pang. A workstation starts with a good desk because that's where we spend most of our time and this portable desk can even be used for your kids as they too hustle about with their online classes.
Minimal, easy, and delivered to your doorstep. It needs no assembly, just unbox, unfold, and start using it. Made from the finest quality high density engineered wood and rustproof powder coated mild steel, the quality is top-notch. The large space between the leg frame makes it safe for you to stretch when its 11 pm and you're still working. 
Ideal for study rooms, stylishly minimal it can be stored away even in the living room. It's ergonomically designed, comfort is guaranteed. If you're looking for that Pinterest-Esque portable workspace to add this one is it!
Bonus: table can be used to Instagram food pictures, adds a good background, and feel to them.
About SmartStorey

Smartstorey is a Bangalore based company working on both B2C and B2B models. All their furniture is made in their units in Bangalore, Hosur, and Rajasthan. The company believes in making sleek, compact, utilitarian products, and being vocal for local purchase, local employment, and empowerment of local artisans and craftsmen.
Pricing and Availability
This Smartstorey table starts at just ₹3,799 is also available in other color options like – Beige and Walnut. You can also find out more product-related information Click Here.