This yet another Diwali gifting story but today we have one such top-notch product range you will be very delighted to see. This product comes from a brand named MiniArkiTech which is basically India based startup. As the name suggests them MiniArkiTech is a specialty laser cutting, merchandising, and gifting design studio that specializes in "one-of-a-kind" merchandise not commonly found in the larger retail market. They are dedicated to providing customers exceptional customer service in a visibly relaxing and engaging shopping environment. Their mission is to serve customers with unique, high- quality products at attractive prices.
More About MIniArkiTech
MiniArkiTech Design Studio brings you the most exclusive, elegant, and unique collection this summer 2020. Our 3D multilayered Mandala Wallclocks collection truly adds a rich, pleasing, and ethnic feeling to the wall of your room, dining, drawing hall, or lounge. It's a part of proud Indian culture. These tapestries are conversational pieces of art tastefully curated by Ar. Varnika Bhosale, Design head of our studio. Click here to check out more.
Miniaritech offers a wide range of wall decor, gift boxes, and many more products. We ordered two products from the first is the Designer clock and the second one is a photo frame.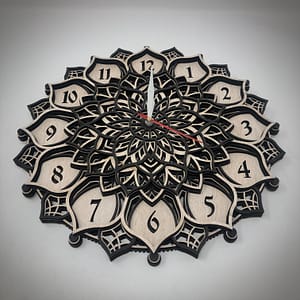 While going through Miniarkitech's website you will be able to spot two clock type one is the Intricate and the other one is the Classic collection. In each of these two categories, you will find different design options and you can choose one according to your taste. Glad to share that this is manufactured with high-quality materials like A grade green panel laminated MDF which I believe will last you for years with the same beauty. These clocks are is made using superfine laser cutting and paired with ultimate craftsmanship. These designs are inspired by Mandala which is a Sanskrit word which means geometric configurations of symbols.  Actually, when you will see the product next to you, then only you can spot the difference between a normal clock and this one. Personally, I liked the design and colors they match with all kinds of walls whether it is your bedroom or your workplace or it is your drawing room it justs fits in easily. You get a silent mechanism so you will not be disturbed by those tick-tock sounds again and you can concentrate on your work again.
Also read – AirPods 2 Clone – Full & Final Review
You as a customer get full customizations in your hands, you have two categories, then you get a variety of designs both square and circular styles that too available with size selection. All the clock styles come in three size options that are 10.2 x 10.2 inches, 16 x 16 inches, and the biggest size is 18 x 18 inches. I will prefer you to go with a minimum of 16 x 16 inches size as this is the most ideal size not too big and not too small. It will be better if the MiniArkiTech team can send these clocks already ready to use as the one I received was without needles and you have to fit it back or if they can share a small DIY video clip for customers to understand how to fit it perfectly. Overall, when it comes to design I will straight away give them ten out of ten points. Pricing for designer clocks starts at just Rs. 2,499 which I think is honest as you are getting a product which is just super cool!
MiniArkiTech's 3D Wall Arts and Designer photo frames
As discussed earlier, these wall arts are too inspired by the same Mandala art paired with precise CNC laser cutting with customizable color schemes. These can be ideal for your home and workplaces, you can also get this in religious symbols which can be put up on your entrance to welcome your loved ones with a small gesture. The price for this 3D wall arts starts at Rs. 4,499.
On the other hand, the photo frame comes with almost the same design and is again paired with the same CNC laser cut MDF to keep your memories safe and sound. There is only one size option for a photo frame that is 4 x 6 inches it would have been a little better if they can offer big sizes too. Anyway, if you are ordering more than 10 pieces you have an option to fully customize it from top to bottom. Pricing for this is starting at Rs. 999.
Availability
You can easily place orders for all the above-mentioned products, rather there are other exclusive gifting products too which you can check it out here. For the time being, MiniArkiTech is offering FREE shipping across India. Interestingly, you get multiple modes for payment which definitely safe and foolproof. You can also ask your product related questions directly on WhatsApp from one of the representatives so they can reassure you all things before you make a purchase.