The industry is almost flattered with so many kinds of backpacks. Usually, we all do have our "old-styled" bags at our home which we often use in our daily routine. This is one of the major causes which saves us from spending on bags. One of the great philosophers once said that we focus on buying big things and forget about the smaller ones. The same case applies here, we can think to purchase expensive/high-end laptops but we don't even bother to spend more on accessories. Eventually, Cost-cutting just starts here. Bags are going to be your daily drivers if you are a school going or office going guy or need it for any other kind of work.
So just in case if you have to pay some extra cash to feel the comfort, I believe is much better than paining shoulders at the end of the day. Now, these Corona times remind us of the same: "It is health that is real wealth and not pieces of gold and silver."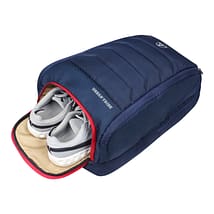 Every day we reach a step forward in our lives and so does the modern sciences. You must be thinking, why I am relating this to science, but actually it is just physics. I don't want to get into the key details and how things work in reality. Just the same way, bags also need to be upgraded with time as we move on. Today we will be talking about one such leading Indian backpack manufacturer UrbanTribe. Their aim is to provide the best innovative product to their consumers at a very friendly price.
UrbanTribe Fitpack Pro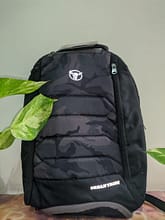 FitPack Pro is quite spacious and perfectly designed, especially for office people. In the bag, there is enough space to keep your laptop and gym accessories which is not quite possible on the other bags available in the market. The packing includes a free of cost water sipper/shaker with UrbanTribe branding. The 15.6-inch laptop fits perfectly inside the bag without many efforts.  Just like other so-called "tech bags" this one supports USB Charger. The Bag is available in multiple trendy colors like  – Navy Blue, Black, and Camo green. We personally liked the camo green as it looks a way different than others and seems very eye-catching!
When it comes to the quality of the zippers it is absolutely fantastic and doesn't feel cheap. This shows a brand is consistently working on a product that is not at all compromised in any factor. It is one of the ideal bags for travellers where you can store enough of your clothes and other stuff. Fitpack Pro seems to be very lightweight or you can say the bag is made from feather-light material at least better than other runner-ups in placed at this price segment.
Key details about this FitPack Pro
Separate Shoe Pocket
Two Side pockets
Elaborate Organizer with key holder
Pocket for Shaker/Water Bottle
Internal USB Charger
Secret Pocket
Quick Access Pocket with Microfiber lining
Quick Access Pocket on the Shoulder Strap
Padded Shoulder Straps and Chest Strap
Volume: 46 x 30 x 17
UrbanTribe Laplow
Most of us spend long hours on our laptops every day that can be for work or for watching movies. We often keep laptops in our lap and know many of you are doing the same from the past few days. Many studies have proven that keeping Laptop very close to your body can have adverse health effects and the list includes other deadly diseases like cancer. To safeguard us from all these we have one such great product which I shall be sharing with you today.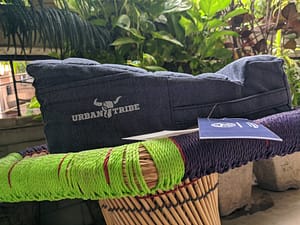 This product is a Laptop Cushion or you can call this a Laplow. There was not much need before so I felt that there is no purpose of writing this. But in the time being we all are working from home, well most of us don't sit on a table chair. We rather prefer to sit on a bed/mattress which can be comfortable with our bodies. But these comforts can cost huge amounts to our pocket. Due to all these efforts which we make to get seated in a comfortable position can cause postural deformities. Now, it's your turn to change your work from home routine each day. If you face any kind of connectivity issues at your place then you can be sit down outside in your garden and in a healthy environment.
Not just this you obviously face other hardships which are worth mentioning here –
(1) Laptops especially those affordable ones would weigh around 1Kg and has a hard form factor. This will result in pain in your legs.
(2) The heat coming out from the fans can be discouraging. Other UV rays emitted by the machine can be harmful to the body.
(3) Not able to properly type or able to reach the trackpad.

I kept using this laptop cushion from the past few days and my experience says that this is a product one should consider buying at the moment. The cushion easily fits in a 15.6-inch laptop. On both sides, we find one pocket which can be utilized in keeping pen drives/earbuds. Also, you get a holder to carry the cushion easily wherever you are traveling. If you are a traveler and need to manage the work aside then you should try out this product. he angled design not only cushions your wrist but has the perfect eye inclination and prevents your laptop from sliding down. The fabric used in this feels pretty smooth also you can place a 13″ laptop paired with a mouse.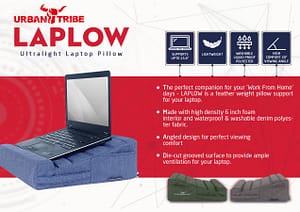 The product looks very premium from the outside and the material used in the manufacture of this also feels comfortable. There are always some bad points likewise this doesn't give enough flexibility to the user to change angles. Though the product looks quite minimal and stunning. By the way, I did like the product apart from that one point. I shall recommend you to get one for yourself if you are a guy who has a hell lot of work from morning to evening. Unlike other wooden tables, this doesn't feel hard and this is what it makes a unique product. I tried placing this on the floor it just works out well in that scenario though.
Also Read – Best Things To Do In Pomona
About UrbanTribe

With UrbanTrube, you feel the best-in-class customer satisfaction that provides a seamless buying experience online. The majority of the provides available on UrbanTribe.in includes a 12-month warranty and supports Cash on delivery option to provide flexibility to the customer. The company has completed many great achievements in the past few years and is continuing to work hard round the clock to provide a product that delivers and meets all quality standards.
Verdict
"Must buy, work from home product with numerous health benefits." – GizmoTrends
During our relative day to day tests both the products were up to the mark and as described. If you are a guy who is looking forward to a comfortable bag that looks sturdy and unique than you must go ahead with this. I am very happy to see that the brand working on its own innovation which seems to be futuristic in the arena. If you are willing to buy the product find the below links to order it now.
UrbanTribe Fitpack Pro – BUY NOW
UrbanTribe Laplow – BUY NOW