Over the years, computers are being replaced by laptops and now this innovating technology is reshaping all the other laptop components which we often use. Day by day they are becoming more powerful, long-lasting, slimmer, compact, and better. With the key developments in the technology industry, the end product or laptops are becoming more delicate and some of the components need to be maintained properly. Yes, you heard it right, here is one such example. Suppose, you buy a laptop that offers great specifications, premium build, and offers high-end components. Obviously, this will cost you much higher than other entry-level laptops as you are investing in a premium product. But before you make a purchase you believe that the product will last you for the next 10 years, but sometimes it does not go the way we think.
This basically applies to all the electronic appliances, and not just laptops. Likewise, another guy uses the same laptop and the laptop lasts him for approx. 10-15 years and you will be wondering why there is so much of a gap? This is because the other person has used the same laptop in friendly/optimal conditions. Today we will be talking about one such brand Enthopia. They offer products that let you add your personal touch to any part of your life. We just ordered two products for our MacBook Pro from Enthopia which we feel you should consider buying at least in 2020.
Also, Read – Apple AirPods Pro Clone – Where to buy?
Laptop Accessories –
1. Enthopia Vegan Leather Laptop Sleeve + Pouch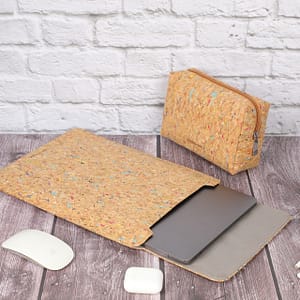 The product looks very minimal and is designed according to the laptop's shape. In our case, the MacBook Pro fits in easily without much effort. By just touching you can feel Vegan Leather used in the manufacture and really this feels premium. Here are the external Dimensions for the product -13.5 x 10 inches. Also, the packing includes a Pouch, this looks great too. This can be used to keep other laptop accessories/cables which would have been difficult for you you to handle while traveling. The size of the pouch is enough to keep a laptop charger, a USB cable, Wireless/Wired mouse, and a 3.5mm earphones. I personally feel it is a great thing to organize all cables under one hood.
On top of it, both the sleeve and pouch are water-resistance, shockproof, and scratch-resistant. Thus, all these features make this product unique and make this stand out from other products available in the market.
Both the laptop sleeve and the pouch are very light in weight and are not much heavy. The inside material used is soft to keep your laptop safe from scratches and to ensure that your laptop looks brand new even after years of use. I will suggest Enthiopia to addon a zipper or pocket on top of the laptop sleeves where you can store other relative documents. But otherwise, the product is fine in all other prospects. The product is available on Enthopia.com and includes a variety of color options according to your taste. In my opinion, you should buy Colourful Cork 😉 as this looks way better than other colors.
This product is priced at Rs. 1,295 which is just okayish for a product like this. From my end, it is a go-ahead deal! But make sure that you check out the compatibility list once you make a decision.
2. Enthopia Vegan Leather Folio Case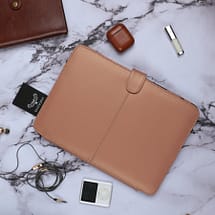 Apart from the sleeve, you have the option to get a Folio case over if you don't prefer sleeves. Most of the cases available in the industry make ports inaccessible but this one is not like this. We got this for our MacBook Pro and it fits in perfectly from all the four corners. This case comes with magnetic outer closure and a soft interior provides good protection to your laptop. Unlike other cases which reduces productivity where you are not able to get a full screen and trackpad also looks congested.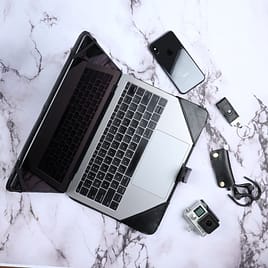 The product is designed in such a manner you get good screen visibility with adjustable viewing angles. It makes the laptop very handy and portable. As soon as you close the lid, just tug in the magnetic closure and you are ready to go! The case offers superior durability with a shock-absorbing feature out of the box. The same provides fool-proof safety to your laptop which is not possible without a case if you by chance drop your laptop. 
The product is priced at Rs. 1,295 and is available on Enthopia.com in many trendy color options like tan, rose gold, light grey, and much more. In this way, one can personalize your laptop accessories according to his needs.
*Both the products are available on Cash On Delivery (COD) options to provide flexibility to the customer and include free shipping across India.